This is another older draft post from 2015 I didn't finish that I am finally getting around to posting.
I have always loved ceiling fans because I find their slow movement relaxing and I like how they distribute the air and prevent hot and cold spots. When we saw a small ceiling fan, still in the box, donated old stock up for sale in the Renuzit store for $65 I simply could not resist. Installing it would be a royal pain, I knew that. Even so I wanted it.
In the past I have always hired an electrician to it. That was inevitably a multicuss job for them and more than once I had to have them back in because it did not work properly. I decided to give a shot myself. I have learned a lot more about electrical work since the last time I had a fan installed.
Projects like this are best handled with a lot more time spent planning than doing. I think that's the biggest mistake I made in my early days of Doing It Myself. I'd just start and find myself missing tools, having to take things apart and put them back together again and often stuff just did not go. Since then I have learned that planning is the most important of doing.
I started with with you tube videos on the topic and a video from The Home Depot. I love it when people put up clear easy to follow do it yourself videos. After watching three or four I felt this was indeed a doable job.   You put all the parts together, connect all the wires correctly and then it goes. Next step was to read the manual. I find I have to read the manual through carefully about three times checking my understanding as I go. Certain things stand out and stick with each reading. Even after that I have to consult the manual on each step along the way. Also inevitable is that you hit snags and have questions come up as you do.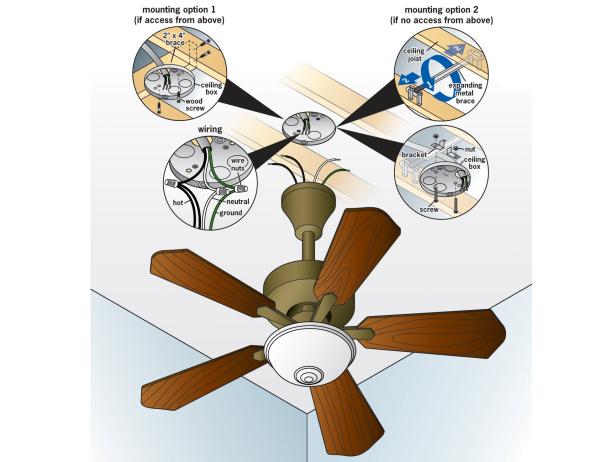 My first problem was the manual clearly specifies you need to have a proper outlet box designed specifically for a ceiling fan. It must be able to hold 35 pounds of weight. (My fan is a small one. Most of them are a lot heavier than that and many are very heavy. Now the question is do I use the old outlet box or tear it out and buy a new one and instal that? After much more research on line I discovered that the old fashioned outlet steel outlet box I have is rated for 50 pounds of weight assuming it is properly installed. I also discovered this old fashioned steel box was installed by first building a wooden box of two by fours around two sides and fitting them into the corner of the joist further increasing its capacity. This gives a four sided box. This is the old fashioned way of doing things.
The new plastic boxes don't require all that effort to install. But the new plastic boxes cannot be used for more than 7 pounds of weight. So the old fashioned way would seem to be the right way for when, some 40 years later, someone comes along to retrofit something. Everything in this old house was done right and done with love and attention to detail. The very well installed steel outlet box is just one of many examples I have come across. These old houses were built to last, often by the people who would live in them or their neighbours who would be around to complain to if the job was done wrong. So things tended to be done right. Nowadays a stranger arrives, slaps together a whole development and sells off the houses and vanishes. No one thinks about retrofitting or what will happen 40+ years later.
I digress. Having established that the old steel box can hold the fan with about 15 pounds or a 30% safety margin I began. Ceiling fans have a safety cable you attach that the whole unit can hang from. This allows two things. First you can don't have to have someone standing and holding the dang thing while you connect wires. Second you have something so if the whole thing does give the fan shouldn't hit the floor. So my first job after getting the old outlet cover off was to put in a special screw for the purpose of hanging the fan by the back up cable. (Not all fans have it. Some have a cup the fan sits in instead as in this video https://www.youtube.com/watch?v=aVL4FdMyCfo)
Next following the directions, I got the motor part hung. There is an upper housing that is just decorative that hides all the wires and such from view. Connecting the wire meant another pause to check on line. You see, my house has some old style thick copper wiring with red being the hot wire and black being the neutral wires and the ground is bare and attached to the steel box. All the wiring arrives on site in a long steel encased conduit. In the wiring diagram for connecting the fan that came with the manual, black is the "hot" one and it is for the fan motor, white is neutral. There is also a blue wire for the lights. There were three possible configurations for the switch. One can have an on off switch for the fan, a separate light switch and a dimmer with that. (Hence all the wires.) However the simplest of the three diagrams is to join the light and motor fan hot wires (black and blue) to the hot wire from the house (red) and just have power off and on and adjust the light and motor using the manual switches at the motor. Since doing it any other way would involve tearing up walls to reinstall all the wiring, we are going with the simplest configuration.
Connecting the wire has to be done properly. I learned from reconnecting my solar panels and my macerator pump. If the connection isn't right you get trouble. The worst trouble is with the loose connection that lets some power in but makes the electricity have to jump over a space. That leads to heat and that leads to fire. I made  a poor connection while extending the wires on my macerator a few years ago. In rewiring my macerator I created a "hot spot" and while I did not burn myself, I sure gave myself a real scare when I was handling the wire and it was hot. The plastic electrical was partially melted. Because of that scare I had previously researched about the connecting wires. My preference is twist nuts. I used them for connecting lights and fans in outlet boxes and I had the correct sizes and types. When connected properly the nuts are solid if you give them a yank and all the wires are buried in deep with no bare wire showing.
Once the main housing was in the rest was easy. I added the fins and the light shades and then we were done. It worked! Three years later we are still enjoying the benefits of a lovely ceiling fan that keep the air moving. In a small house stale air is a constant issue so the little fan is lovely to have.