It has been two weeks now since we got the FitMi and Music Glove. I thought folks might be interested in where we are at with it. Hubby dearest has been faithfully using it every day. All exercises are done while sitting down. He does ten minutes of each. There are four sets in total, Core, Leg, Arm, Hand. He always picks the three that have the lowest score so that way he gets 3 ten minute sessions but he gets through all four sets of exercises over two days. The four workouts started with only three exercises. He could not access the other seven until he had reached a certain level on the first three. After he passed a certain level a new exercise was "unlocked" and added to the routine. Each unlocked exercise was of increasing complexity and difficulty. Each of the ten exercises for each region also has ten levels. So that is 40 different exercises with 10 levels each for a total of 400 levels.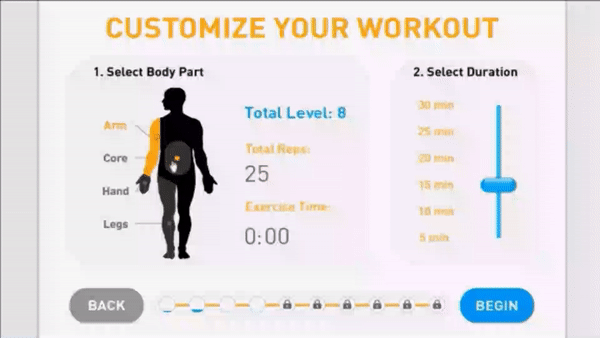 Once he reached level ten on his first exercise he got a gold star on his chart and his goal is now set to infinity. He still has to do that exercise as he cycles through a workout but he does not have to increase the reps. He likes to add one rep to his current score. Every time you beat your own score this little computer crowd sound cheers for you and it is surprisingly gratifying.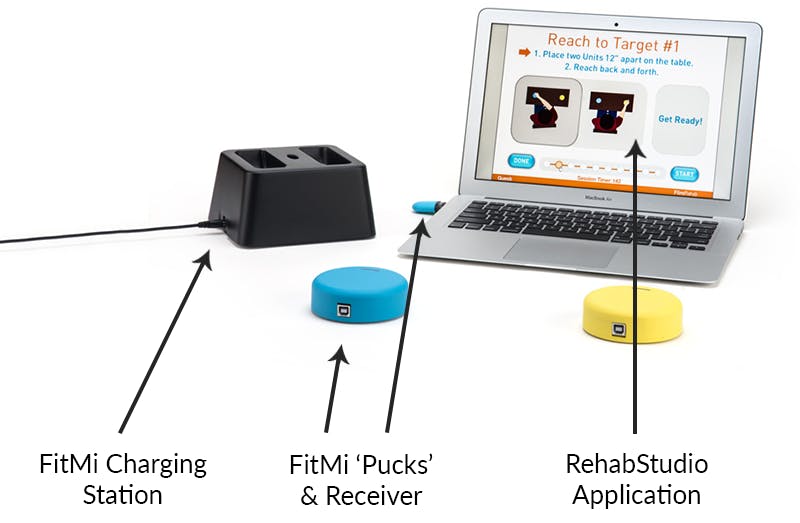 When we first got the FitMi he could not even manage the 10 reps for two of the exercises. One exercise was a leg lift and stomp for the affected leg. There is a video you can watch that explains how to do each exercise. The woman in the video said if you can't do it, use your hands to lift the leg. That's what he did. He used his hands to lift the leg. Surprisingly enough, as soon as he could do a few lifts, his brain seemed to remember what it was supposed to do and after only two days he could suddenly do the lift without his hands helping. It was like his brain "woke up" and remembered how to do it. He soon began progressing rapidly through the levels for the leg stomp. He has now reached level ten.
My husband now has all the exercises unlocked. He has worked three/ten exercises in each of the four up to the infinity level. It is hard work. Even though he is doing these exercises while sitting down, he works up a sweat and he's huffing and puffing doing over one hundred reps of the unlocked exercises.
Is it working? YES! The day we got the FitMi we walked down to the store where the truck was ready to deliver. We stopped at the post office. A pair of new slip on style shoes without laces had arrived because he was having so much trouble with laces. While I waited my turn at the store, I watched from across the street as he opened the package and then took out the new shoes, removed the old shoes and tried the news ones on. I was shocked and upset. It was painfully obvious he was really weak on the left side. His body was leaning over at 45 degrees. More alarming, he was not using his left side at all. Everything he did was with his right side except for swinging his left arm to use as a brace. He was letting the weak side slide farther into disuse without either of us realizing it. The FitMi has stopped that because he is forced by the program to consciously use his weak side.
The result has been a remarkable improvement in his overall balance and movement. Just today he made breakfast and was whirling from frying pan to cupboard to take out a plate and spinning back to pick up the spatula (with the weak hand) and then loaded my plate and handed it to me. It was all effortless, thoughtless, with no sign of left weakness. When we take the dog for a walk, the heavy left foot swing stomp is gone. He is now rolling his foot almost normally. He also used to stagger a bit so it looked like he'd been drinking as he walked before the FitMi. That's gone. His gait is not completely normal but it is close to normal. To be fair, it was not normal before the stroke because of an injury with severe break and a big steel plate in the leg plus some arthritis in his knee. It is nice to not know if his slight limp is due to the stroke or the old injury.  He says the leg, especially the calf still feels kind of weak and numb, not entirely normal. He has to consciously remind the leg how to work. However it is working and that says a lot.
So would I recommend the FitMi? Absolutely with one important caveat. One of our friends had a heart attack and he bought a treadmill. He made many promises to himself to use it. It sits in his bedroom, a very expensive clothes rack. The FitMi is the same. If you aren't going to use it, it will sit in the computer, a very expensive icon on your desktop. You have to be willing to persist in using it because it is hard work and it is all too easy to just skip it and do it later. My husband is really determined to get better so he's working hard at it every single day. I have had to remind him some days and he quietly grumbles while he sets it up. I also sit with him and watch him work through his routine every third or fourth time to make sure he has the puck in the right orientation and so forth. I am honestly always amazed at how much he has progressed since the last time.
(I got no discount or special benefit from Flint Rehab for writing this.)